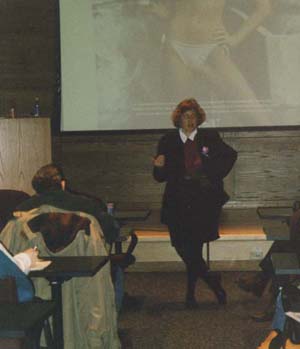 rebecca@rebeccaradcliffe.com * 1-800-470-4769
Rebecca's University & College Topics
Rebecca's insightful, supportive, relevant topics help students prepare for life after college. Her ideas build self-confidence, encourage optimism, and provide a practical approach to handle daily stress.
Dance Naked in Your Living Room: Handling Stress & Finding Joy
Skinny Dreams: How Stress, Eating & Body Hatred Impact Success
Lost In a Box of Chocolates: Using Food To Cope
Finding Body Peace in a Media-Crazy World
Enlightened Eating:
Understanding & Changing Emotional Eating
Making an Impact: Helping Students With
Body, Eating, & Weight Issues
Body Wisdom: A Journey of Insight & Peace
Dare to Dream: Creating the Lives We Want
Dreams Grow in Every Heart: Embracing The Future
About to Burst: Handling Stress & Preventing Violence
Call 1-800-470-4769 for more
information or email Rebecca at rebecca@rebeccaradcliffe.com!
Rebecca Radcliffe, national speaker and author, is known for her uplifting, warm-hearted, supportive, and compassionate talks.Her stories and cultural observations are thought-provoking and truly inspirational for campus and professional events.
Comment from Rebecca:
This is a wonderful yet challenging time for young women and men to be preparing for their adult lives. Their talents and dreams will help make life better, so it is important that stress and body intolerance does not hold anyone back! I look forward to speaking with you.

Rebecca's Speaking CV/Resume
Descriptions of Rebecca's Talks
Visit Rebecca's bodypeace.com
Colleges/Universities Where Rebecca Has Spoken
For more information or to schedule Rebecca for your event, please
email her at rebecca@rebeccaradcliffe.com or call 1-800-470-4769.